Purnima Exports is Manufacturer of Women Apparel. We special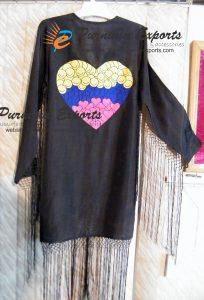 ise in wide range of hand embroideries & Machine Embroideries. This is one of our new developments for customer. The picture shows fringes & beautiful embroidery of heart, smiles on Silk Crepe.
We are working with designers, startups, boutiques for development of there collection in India. We have our own production and manufacturing Unit.
More Info
Whatsapp at +919811054477